Dr. Allen and Dr. Danner were both selected to speak at the NFO conference this year. Please click the link below to see the slides on their talks!
Allen, Kyle What's new Cochlear Implants
Nov 2018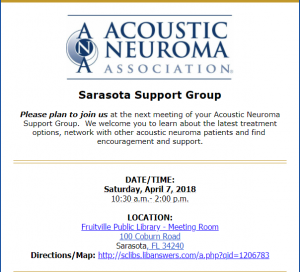 Dr. Danner will be speaking with the ANA Sarasota support group on April 7th, 2018. Many benefits can be gained from a supportive group environment. Family, friends, caregivers and interested persons are encouraged to attend.
TOPICS:
● Acoustic Neuroma
Sound Advice for Hearing Rehabilitation
Presented by Christopher J. Danner, MD, FACS
Tampa Bay Hearing and Balance Center
● Caring, Sharing, Networking and Support
FOR ADDITIONAL INFORMATION OR TO RSVP, PLEASE CONTACT:
Kim Simington, Support Group Leader/Facilitator
Phone: 908-963-8800 or Email: kjsimington@msn.com
Melanie Hutchins, ANA Manager of Volunteer Programs
Phone: 770-205-8211 or Email: volunteers@ANAUSA.org