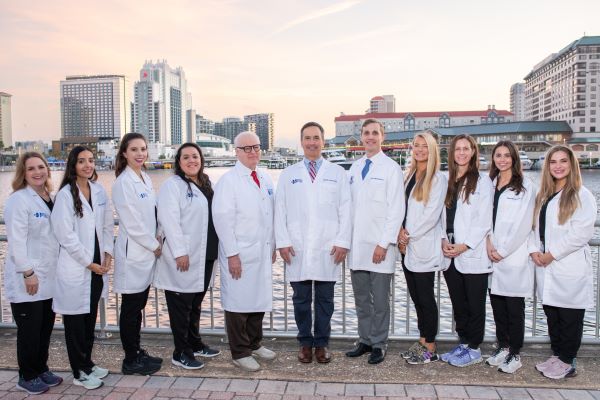 Physicians
Loren J. Bartels M.D., FACS, Christopher J. Danner M.D., FACS, and Kyle P. Allen M.D., MPH welcome you to our center. We look forward to providing you with top quality care.
Our team of nationally recognized, fellowship trained physicians have a combined 75 years of experience in the field of Otology, Neurotology, and Skull Base Surgery. We are passionate about advancing the management and treatment of complex ear disorders and use a combination of novel, leading edge, and traditional approaches to ear health. Our physicians are well known for their patient focused and compassionate approach to medicine and will provide you and your family with the expertise you need and deserve to live a happier and more active life.
Tampa Bay Hearing and Balance Center is a Best Doctors of America® based practice that specializes in the diagnosis and treatment of ear, hearing, balance, facial nerve, and skull based medical problems. We are among the most active cochlear implant centers in the United States and participate nationally in clinical trials cochlear implant research. Our comprehensive and evidenced based evaluation and treatment addresses a wide range of vestibular disorders including BPPV, Ménière's disease, vestibular migraine, and other balance problems. We strive to provide excellent hearing and balance services to meet our patient's physical, emotional, and life-style needs.
Audiologists
Our audiologists specialize in identifying, diagnosing, treating and monitoring disorders of the auditory and vestibular system portions of the ear. They dispense hearing aids and recommend and map cochlear implants. They counsel families through a new diagnosis of hearing loss in infants, and help teach coping and compensation skills to late-deafened adults. They also provide special fitting ear plugs and other hearing protection devices to help prevent hearing loss.
Medical and Professional Services
We serve all ages at the Tampa Bay Hearing and Balance Center. Our services are comprehensive and include:
Diagnosis of Ear, Hearing, Balance and Skull-Base Disorders
Surgeries of the Ear, Inner Ear, Facial Nerve and Skull-Base
Cochlear Implant Surgery, Consulting, Mapping, and Ongoing Care
Hearing Assessment, Testing, and Treatment
Dizziness, Vertigo, and Imbalance Assessment, Testing, and Treatment
Tinnitus Assessment, Testing, and Treatment
Implantable Hearing Systems
Digital Hearing Aids
Audiogram
Tympanometry and Acoustic Reflexes
Otoacoustic Emissions
Auditory Brainstem Response
Electrocochleography
Vestibular Evoked Myogenic Potentials
Videonystagmography/Electronystagmography
Vestibular Autorotation Testing